Heat pump dryers are much more energy efficient than other type of dryers. It also offers better protection for your clothes. However, it takes slightly longer to dry than a standard dryer. These dryers are also more expensive than vented dryers.
Which one is the best heat pump dryer in Australia? Here are our picks based on the value for money, customer satisfaction, and the features:
Best Overall Heat Pump Dryer and Energy Efficient Heat Pump Dryer: LG 8kg Heat Pump Dryer
Cheapest Heat Pump Dryer: Haier 8kg Heat Pump Dryer
Best Large Capacity Heat Pump Dryer: Bosch 9kg Heat Pump Dryer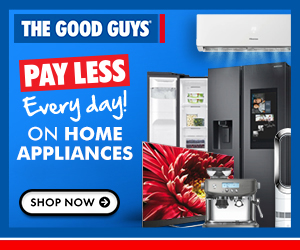 Best Overall Heat Pump Dryer and Energy Efficient Heat Pump Dryer
This super energy-efficient heat pump dryer has a 9-star energy rating, and more advanced technology than other dryers.
It utilises a compressor instead of an electric heater to create hot air. Hence it uses less electricity than traditional vented dryers.
You can choose between saving time or energy. You can also choose to set it on low heat, to prevent fabric shrinkage or creasing. With the Allergy Care setting, common household allergens such as dust and mites can be removed from dried clothes.
It also offers the feature of Auto Cleaning Condenser, so you don't need to worry cleaning every time you use it.
With the Sensor Dry feature, the heat exchange, moisture and air temperature are monitored to get optimal drying results and prevent over drying.
And with ThinQ technology, you can start and monitor your dryer with your smartphone. You can also track energy consumption, diagnose and troubleshoot issues.
No wonder although it is slightly more expensive than other 8kg heat pump dryers, it has a great average customer rating of 4.8 out of 5.0, according to Google.
Cheapest Heat Pump Dryer
This 8kg heat pump dryer with an 8 star energy rating is great value for money.
The sensors inside the dryer detect when the load has dried and automatically stops the cycle, preventing from over-drying.
It also has an Anti-crease option to smooth wrinkles on the fabric, makes it easier for ironing.
It actually offers more drying programs than most other heat pump dryers: Cotton, Synthetic, Mix, Shirts, Jeans, Sports, Underwear, Towels, Baby Care, Delicate, Bedding, Duvet, Air Dry, Time Dry, Warm 30 and Warm 60.
Best Large Capacity Heat Pump Dryer
If you are looking for a heat pump dryer for a big family or household of five or more, this Bosch 10kg Heat Pump dryer is a great option. This dryer will also fit very big items such as a king-sized doona.
With its ActiveAIr technology that re-uses existing heat throughout the cycle, it is rated 8 star for its energy consumption.
Avoid overdrying, shrinking or too high temperature with the AutoDry function. You can just set the level of dryness that you want. The sensor will detect the temperature and wetness of the laundry, and it will adjust automatically.
It also comes with Antivibration side walls, making the drum more stable and reduces vibration. Hence the dryer is very quiet.
The Sensitive Drying system results in soft laundry with no creases as mild and warm air coming from every sides and mixed by the curving soft carriers.
Unlike most other dryer, this dryer has interior drum light so you can watch it even at night.
With such sophisticated features and excellent customer rating of 4.7 out of 5.0 according to Google (where everyone rated 4 or 5 stars), we pick this dryer as the Best Large Capacity Heat Pump Dryer.
Bosch is also voted as Australia's most Trusted Brand 2021 by Reader's Digest for Laundry Appliances.
How To Choose A Heat Pump Dryer
Have you figured out how to choose a heat pump dryer? Heat pump dryer is one type of condenser dryer which is very popular. These dryers are very energy efficient, as they recycle heat in the process of extracting moisture. So it can be said that buying a heat pump dryer is the right choice. Then how to find the right heat pump dryer product for you? To find it, you can try some tips for choosing the following heat pump dryer.
1. Choose Easy Operation Program
Heat pump dryer is a drying machine that uses smart technology that can dry your laundry by using hot air to remove water from the load, which then evaporates in the tank. The heat pump dryer type is the most expensive type of dryer with the most advanced features.
Due to the sophistication of the technology presented, you must choose a product that has an easy way to operate. Choosing an easy way to use will help you still be able to finish well. You can consider a heat pump dryer with a simple design and easy button functions.
2. Always Pay Attention To Size
When going to buy a dryer product, make sure you choose a product that can fit your needs. Don't let you buy a heat pump dryer that has a capacity too small for your needs. First, consider how much capacity you need. Even if you don't have such a big need, choosing a heat pump dryer with a minimalist size is the right solution. Choosing the size that suits your needs will help you save money.
3. Check the Programs Offered
Heat pump dryers always offer manual and sensor programming. Well, you can check which machine you are going to buy provides which program. Manual programming usually provides only two to three adjustment functions.
Then the sensor program provides more control programs. However, if you are buying a heat pump dryer that provides both programs it is a better choice. The control programs provided by heat pump dryers are usually pieces of cotton, synthetics, delicates, iron dry, extra dry, mixed and many more. Make sure you buy a product that offers a program according to your needs.
4. Check Security Features
This safety feature is very important for you if you are going to use a heat pump dryer at home. Usually, there are lots of children or pets in the house. If you have it, then you should prioritize security features. This security feature is usually in the form of an automatic locking system so that the machine cannot be opened arbitrarily and cannot be tampered with while in use. This feature will make your drying process safer because even if the button is changed, it will not have any effect. After all, all systems are locked automatically.
Finding out how to choose a heat pump dryer can come in handy when you are going to buy such a machine. Because the heat pump dryer is the most advanced type of dryer that is environmentally friendly and energy-efficient, of course the price set is higher than other types of dryers. For that, you must prepare sufficient funds when making a purchase.