Are you looking for the best security camera for your home?
Based on our research, here is the list of best home security cameras in Australia for the year 2020:
Best Outdoor Security Camera System: Reolink Wired 4K
Best Wireless Security Camera System: EufyCam
Best Cheap Security Camera System: Jooan 1080P
Best Wifi Security Camera Australia: TP-Link
As an Amazon affiliate, we earn commission for a qualifying purchase
Best Outdoor Security Camera System
To be honest with you, this Reolink Wired 4K security system is not as good as Arlo 4K, which PCMag recommends because of its image quality and features. For those who don't know, 4K is 4 times the resolution of 1080p, which means the picture is very clear and sharp. Arlo has 180-degree field of view, whereas Reolink only has 87°.

Arlo also has Auto Zoom feature, whereas Reolink does not. Arlo also offers many fancy things with its app and subscription (yes, subscription. Meaning you need to pay another monthly fee from $4.99/month) such as Package Detection, Rich & Interactive Notification, Person, Vehicle and Animal Detection.
But if you want to get the same quality of image with a cost only a fraction of Arlo, Reolink Wired 4K would be the answer. Reolink 4K's price is around 20% of Arlo 4K. You will still be notified when something unusual is detected, 24/7, by mobile phone instant push notification, as well as by email and buzzer. But you can enable or disable the alert.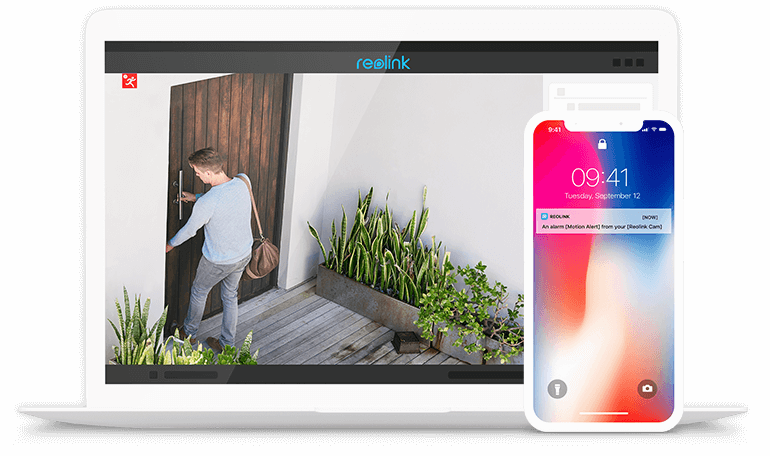 You can also choose a specific spot where you want to detect motions so that you will not be notified of cars passing by in front of your house.
Unlike Arlo 4K, this Reolink security system comes with a 2TB HDD. So you will not need to pay any subscription fee nor buying an extra memory card to store the recording. You can also connect to an external hard drive for extra storage.
If you want to save storage space, you can schedule when you want to record for each of the camera. For example, you may want to record the camera at the side of your house only during night time.
It also records audio.
You can monitor the camera using Reolink App on your smartphone, web browser, or you may want to connect the system to a monitor or an HD TV. You can watch the live feeds of all cameras at the same time. There are 4 cameras in the package. But you can add another 4 cameras, as it has 8 channels in total.
Even though it is a wired system, it is easy to set up, even for a beginner, using a single network cable for both power supply and video signal transmission. You can DIY.
This Reolink 4K Wired is also IP66 Certified Weatherproof, so don't worry if it gets wet because of the heavy rain or snow. It still can work even when the outside temperature is -10° C.
It has 18 pcs infrared LEDs per camera, so you will still get ultra-clarity at night. It has 100 feet (around 30m) vision.
There is a 2 year manufacturer warranty.
At the current time of writing, this outdoor security system receives excellent customer rating of 4.5 out of 5 on average, on Amazon.
With the great price, high quality of image, useful features, plenty of storage spaces, excellent customer satisfaction, we believe that this Reolink 4K wired is the best buy outdoor security camera system. You can also use it for indoor.
Pros:
High image resolution (4K UHD)
Plenty of storage spaces (2TB HDD is included)
Well priced
Excellent customer reviews
No need to change or recharge the battery every time like with the wireless security system
No monthly subscription fee
Cons:
Only 87° of view
No auto-zoom feature
Not wireless
Only one way audio. You cannot communicate using this camera.
Best Wireless Security Camera System
If you don't want the hassle of dealing with the wiring, this wireless security camera system with 4 cameras is recommended. However with the wireless security camera normally you will have issues with the battery. But not with this EufyCam. You will only need to recharge the battery once for a year, or even 3 years if you just put it on Standby mode.
It is very easy to install with a magnetic indoor mount and an outdoor mount which are included in the package. No wiring is required.
This EufyCam also comes with a local 128GB microSD card. You can also choose to have a cloud storage with an extra fee.
With 140° wide-angle lens, you can have a panoramic view. And with its face recognition technology, you will not be notified if it is just you who is passing by.
Its Sony Exmor sensor with a large f2.2 aperture gives crisp and clear low-light footage at night time.
It is also equipped with an anti-theft alarm, so if a thief trying to remove the camera with forces, it will make a loud siren.
This EufyCam is IP-67 weatherproof, works perfectly in any weather, even in raining or freezing temperature of -20°C or when it gets really hot at 50°C.
It integrates well with Amazon Alexa and Google Assistant. You can also use it as a video intercom, as it allows two-way communication.
At this point of time, this EufyCam also has an excellent customer rating on Amazon: 4.5 out of 5.
Pros:
Long-life battery
140° wide-angle lens
Works well during the day and at night, in any temperature from -20°C to 50°C
You can have a two-way communication
With facial recognition technology
Cons:
Image is not as sharp as the Reolink 4K
Quite expensive
Best Cheap Security Camera System
Why only get one camera if you can get eight cameras with an 8-channels NVR at the same price? Although you might have never heard of the brand before, this home security camera system definitely offers great value for money.
With 1080 pixel resolution and advanced H265+ compression, you can save up to 50% storage space.
You will get a notification by email whenever it detects some motion.
At night time, with its 4 pcs LED at its camera, you can still see clearly up to around 18 metres.
You can use it both for indoor or outdoor, as it is waterproof.
Best of all, it comes with a life time technical support.
Buyers are happy with their purchases on Amazon. At this time of writing, no one rated 1 star or 2 stars. It has an excellent average rating of 4.5 out of 5.
There are other cheap security camera systems, but none has great reviews as this.
Pros:
Great price
Good image quality
Save some storage space with its advanced H265+ compression
Waterproof
Excellent customer reviews and customer support from Jooan
Cons:
You need to connect it to the power plug

Motion detect notification is only by email, not by app. But you can still monitor the camera using your phone.
Best Wifi Security Camera Australia:
You might have been using a TP-Link modem, as it is one of the most popular modems in Australia. TP-Link is no.1 WLAN provider in the world, in the last 8 years. You can get 24/7 technical support from TP-Link.
This TP-Link wifi camera is also the best selling wifi camera on Amazon. You can turn it up to 360 degrees horizontally, and 114 degrees vertical range. It gives a high definition video with 1080p.
You can still have a good night view with a visual distance of up to 9 metres.
It comes with a two-way audio, so you can communicate through the camera, such as with the babysitter for example, when you are not at home.
You can also control it with your voice, using Google Assistant or Amazon Alexa.
If you want to have a privacy, you can turn on the privacy mode.
It is equipped with a local 128GB Micro SD storage.
You will be notified by the mobile phone app when the camera detects motion, such as arriving package or suspicious intrusion.
It comes with 2 years warranty.
With the low price, good image resolution, a well-known brand for WiFi connection, 24/7 technical support, and excellent customer reviews (4.5 out of 5 on Amazon at the time of writing), this TP-Link camera deserves to be awarded as the Best WiFi Security Camera for Indoor.
Pros:
Great price
Wide range of coverage (you can tilt it)
Two way audio, so you can communicate using the camera
Privacy mode
No monthly subscription is required
Cons:
Smaller storage capacity. But you can change the micro SD card
Limited night vision (only up to 9 metre)
How To Choose A Home Security Camera
Choosing a home security camera is not difficult. You only need to make sure of a few important things before deciding to buy a security camera which is also commonly referred to as CCTV. For maximum security, you need to install security cameras like this in places where crime is prone.
Your home will be much safer through the extra surveillance that can be done with this security camera. Some things you need to pay attention to when choosing to buy a home security camera are as follows.
1. Make sure the camera is durable
The first thing you should consider when choosing a security camera is whether the camera can withstand all changes in weather conditions. Cameras used for surveillance for security purposes must be waterproof and strong enough to avoid the influence of wind, rain or other factors. Cameras that are not of good quality will quickly get damaged if at any time the extreme weather changes in your place. For that, you must choose a durable camera.
2. Can it be monitored online?
Choosing an online camera is the best choice so you can monitor the CCTV cameras installed in your home from anywhere in real-time. The online installation process will allow the camera to be connected to the internet network, either directly or indirectly through an intermediary computer connected to the internet.
A camera that can function online will help you monitor at any time via a smartphone with an internet connection wherever you are. Always make sure for the best security settings so that the privacy of security camera recordings is guaranteed.
3. Choose The Type of Camera Based on Your Needs
Home security cameras have several types that can be used according to your needs. You can choose the type of outdoor or indoor that can monitor at night (night vision). There are also types of hidden cameras that you can use to track things so that others don't know them.
You can choose a wireless or wired camera according to your needs. Usually, the wireless type is chosen because it is more practical. However, a wired camera works better because the signal is more stable and more durable.
4. Select High Resolution
A high-resolution security camera will allow you to get clearer footage compared to a low-resolution camera. You can choose a camera with a higher resolution if you want better surveillance because high-resolution cameras can display more detail. When choosing a security camera, be sure to check the resolution of each camera that will be used so that the image results do not disappoint.
When you already know how to choose a good home security camera, then you have to be able to sort out which cameras are of bad quality and which are of good quality. You can choose any type of camera that suits your needs.
Besides, of course, you also have to make sure that the purchase of a security camera is following your financial capabilities. Do not buy a camera with poor quality but high price because it will be very costly. Always make sure to check anything related to the camera when making a purchase.