A stand mixer will make your life much easier than a handheld mixer. You can leave it and do something else while it is mixing. No more shaken and tired hand too.
There are so many stand mixer to choose from. Which one to choose?
From our research, here is the list of Best Stand Mixer in Australia 2020:
Best Overall Stand Mixer: Kenwood Chef XL Stand Mixer
Best Overall Stand Mixer
Kenwood Chef XL Major Titanium Mixer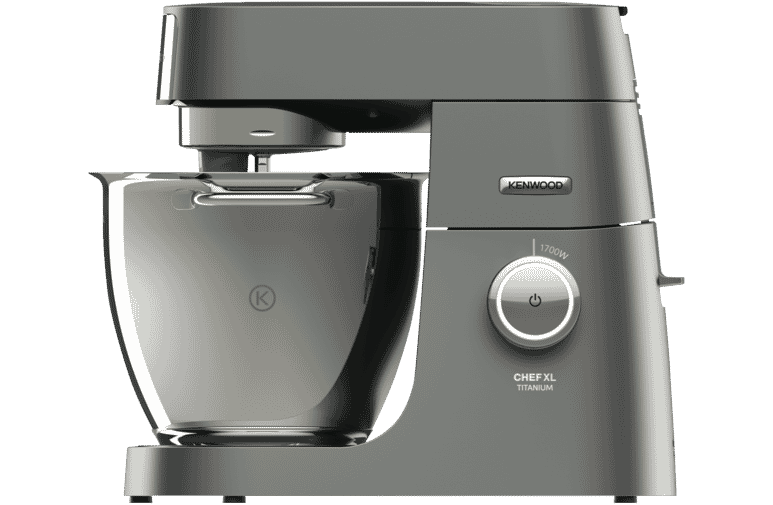 People normally say that KitchenAid Artisan Stand Mixer is the best stand mixer. Is it? Let's discuss it here:
Customer Reviews
Both of KitchenAid Stand Mixer and Kenwood Chef XL Titanium won the Best Benchtop Food Mixers in 2020 based on ProductReview.com.au.
Kenwood is also no.1 brand kitchen machines in Europe, according to Independent Research Institute in 2017 according to the Sales Value Data.
Power
Kenwood Chef XL Titanium has a maximum power of 1700 W, so you can still use it for heavy dough.
On the other hand, the most popular KitchenAid Artisan Stand Mixer only has the power of 300W.
Bowl Capacity
KitchenAid Artisan Stand Mixer comes with a 4.8L bowl and a 2.8L bowl. Whereas the Kenwood Chef XL Titanium comes with a 6.7L capacity of the bowl, so you can put more things in, in one go.
Attachment
There are only 3 attachments included in the KitchenAid Artisan Stand Mixer: Flat Beater, Wire Whisk, and Dough Hook. There are 7 other option attachments, which you will need to buy.
This XL Titanium comes with 5 attachments: K-Beater, Creaming Beater, Folding Tool, Power Whisk and Dough Hook. If you need anything else, there are 15 other attachments that you can buy, such as Food Processor, Fruit Press, Puree & Sieve, Citrus Juicer, Juice Extractor, Scroll Juicer, Rotary Slicer / Grater, Continuous Slicer / Grater, Grinding Mill, Pasta Shaper, Fettuccine Cutter, Compact Chopper / Grinder, or even Dicing Attachment.
Personalisation
KitchenAid is winning for the option of personalisation. You can have the mixer and the bowl with your name. Whereas there is no that option offered for the Kenwood stand mixer.
Blender
You can make this Kenwood XL Titanium as a blender too if you bought the optional attachment. KitchenAid Artisan does not offer that option.
Price
Kenwood XL Titanium is more expensive than KitchenAid Artisan. But Kenwood has a cheaper model: Kenwood Chef XL Stand Mixer, which has the same features but with lesser power (1200W). Still much more powerful than the KitchenAid Artisan. Or Kenwood Chef Stand Mixer, which has 1000W of power and is priced almost the half of KitchenAid Artisan's price.
How To Choose A Stand Mixer
Stand mixers are cooking utensils that are in great demand because they are easier to use than hand mixers. You can try the following tips on how to choose a stand mixer if you want to get the right product.
1. See the Design
The stand mixer comes with a bowl which can help you mix the ingredients better. The stand mixer design comes with a bowl that can be lifted and the head tilted. For the liftable model, you can lift the entire bowl to match the bat or whisk you are using.
The stand mixer model with a tilted head that swings back and forth will help you access more bowls. However, the tilted head model needs room to move. So, you can choose a design that suits your needs.
2. Check The Power
The power requirements listed in the stand mixer packaging do not mean the amount of power used by the motor to move. The power in question is the power the mixer needs to operate. So, power has nothing to do with the mixer that continues to rotate.
However, power is closely related to the energy the mixer uses during use. You can check the power needed to match the electrical power of your home. You can choose a mixer with low power requirements so you can save more on your home electricity bill.
3. Is there any additional equipment needed?
To use a stand mixer, you may need some additional equipment. This equipment is already available in full in the product you buy or you have to buy yourself. If the mixer you are buying only comes with regular metal blades, then you should replace it with a silicone scraper.
The silicone blade will help you get the maximum function of the rubber spatula. So you don't have to stop the mixer for specific needs. You can also choose a C-shaped versus spiral hook. This type of hook will make mixing your dough easier.
4. Check Its Speed
The mixer is closely related to speed. The speed that the mixer has at mixing the ingredients will determine how fast you have to cook. You can check the stand mixer product that you bought whether it has a high speed or not. If the product you buy has a low speed, the dough mixing process will take longer and the electricity used is also more. For that, choose a stand mixer with the right speed.
5. Choose The Easy to Clean One
The stand mixer must always be cleaned after each use to keep it durable. You can choose products with an easy cleaning level to maintain product quality. If the product you buy is difficult to clean, the mixer will break easily. Also, finished food is not hygienic due to accumulated dirt.
6. Check Noise Level
Some people don't like the sound of a noisy mixer. Even some sounds from the cooking utensils used can disturb the peace of the baby while sleeping. So, to avoid this, you can choose a stand mixer with a low noise level. Besides you can be calmer in cooking, you will also keep your baby from being disturbed by these sounds.
That is how to choose a stand mixer for your need. You can find the best product suitable for your need.