Confused which top loader washing machine to buy? To save you time, we have done the research for you.
Here are our list of Best Top Loader Washing Machines in Australia 2020:
Best Overall Top Loader Washing Machine Australia 2020: Fisher & Paykel 10kg Top Load Washer
Best Value Top Load Washing Machine: LG 7.5 kg Top Load Washer
Quiet Top Loader Washing Machine: Fisher & Paykel 10kg Top Load Washer
Best Top Loader Washing Machine Australia 2020
Fisher & Paykel 10kg Top Load Washer
This top loader washing machine is more expensive than other top loader washing machines. But it offers everything you need that other machines don't have:
It is the most energy efficient top load washing machine and water efficient. Top load washing machines normally are less energy and efficient than front load washing machines. The majority of the top load washing machines have an energy rating of 2 stars or 2.5 stars. But this Fisher & Paykel 10 kg Top Loader Washing machine has the energy rating of 4 stars and a water rating of 4 stars. Its Eco-Active feature recirculates water and detergent so less hot water is used.
Is very quiet. It is equipped with SmartDrive technology which results in a quiet and reliable wash
Quicker dry with a fast spin speed of 1100 RPM. Other top load washing machines do not have this fast spin speed.
Made from durable, quality materials
There are 12 programs to choose from: Towels, Regular, Heavy, Handwash, Sheets, Easy Iron, Bulky, Allergy, Quick, Bowl Clean, Rinse and Spin. There are many delay start setting options to choose too, up to 18 hours.
This top load washing machine has the load sensing technology too. It can set automatically the amount of water and the time based on the load. And even balances the load automatically. Don't worry about cleaning the lint. It has the Auto Lint Disposal feature.
It can also fit 10kg of load, which is very useful especially if you have a big household.
It has an average rating of 4.4 out of 5.0 according to Google, which compiles all the reviews found on the internet.
There are 2 Fisher & Paykel 10 kg top loader washing machines. Don't choose the wrong one. Click the button below to see which one mentioned here.
Best Value Top Load Washing Machine Australia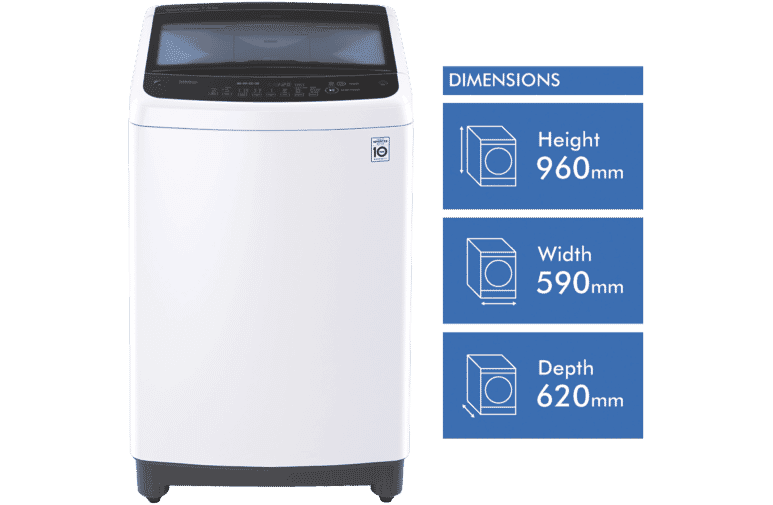 With under $750 you can get this top load washing machine with a maximum of 7.5 kg capacity with these benefits that not offered in other top load washing machines at similar price range:
Better quality of the washing and quieter wash. It is equipped with the Smart Inverter Control, which controls the speed and the direction of the motor, hence less vibration. This inverter control can replicate hand washing actions. It also increases the durability and the stability of the motor. Its TurboDrum mechanism and no agitator used also improve the quality of washing.
To remove stubborn stains, you can select Pre Wash + Cotton cycle for extra soaking and agitating washing time
Minimum detergent residue
It has the Smart Diagnosis feature. So when there is a troubleshoot, it can tell you what is wrong, using the LG ThinQ app and a compatible smart phone
3 star water rating and 3 star energy rating. More efficient than most top loader washing machines
With the wide glass lid, you can check your wash without opening the lid.
It has the load sensing feature, which sets the water and duration based on the load. And also Child Lock.
You can delay start up to 18 hours.
Wash program options: Cotton Wash, Pre Wash plus Cotton, Eco Cotton, Wool, Quick Wash, Duvet, Silent Wash, Tub Clean
With such benefits and a great price, no wonder it has an excellent customer rating of 4.4 out of 5.0 according to Google.
How To Choose A Top Loader Washing Machine
How to choose a washing machine top loader can be found easily through the various information available. A top loader washing machine will help you clean your laundry properly. The top loader washing machine will help you stay active even when you have a hip injury because you don't have to bend over to put your clothes in.
So, so that the washing machine you choose doesn't disappoint, you must be able to choose a good quality machine. How to? Here are some tips that you can apply when buying a top loader washing machine.
1. Choose the Best Features
Each top loader washing machine has a variety of features that can help you clean more optimally. You can choose a washing machine that has advanced features to make your work easier. Don't let the washing machine feature you choose to go unused, even though the price is more expensive.
Don't forget to choose an easy feature and according to your needs. Choosing complete features with touch screen buttons is now the right choice because the technology presented can facilitate the washing process.
Choose a washing machine that has a very important drying feature to make it easier for you to dry clothes faster. Moreover, the drying function is needed during the rainy season. So, you can make sure to choose the best features from each top loader washing machine brand that you choose.
2. Choose Quality Material
Quality materials in a top loader washing machine can make your washing machine last for a long time. Your machine will last much longer if you choose quality materials. The quality of the outer material of the washing machine can also be affected by the air temperature so that the material used must be truly superior.
You can also choose a better tube type for the top loader washing machine that you buy. One of the good materials in the washing machine tube is stainless steel because it is resistant to friction or impact caused by rough clothing. So make sure you choose a guaranteed quality tube or output material, yes.
3. Check on the electricity usage
It is undeniable that the washing machine consumes quite a lot of electricity consumption each year. You can check how much electrical power consumption is on the product you are going to buy. Choosing a product with an energy-saving certificate will make your electricity expenditure more efficient while being more environmentally friendly.
Make sure to choose the electric power that suits your abilities. This is because sometimes there is a washing machine electricity consumption so much that the electric power in your home is not strong enough to use the washing machine. If the home power is not strong, then you have to turn off another electricity usage. Of course, it's troublesome, right? So, make sure to check the power consumption of every time you buy a washing machine.
Those are some tips on how to choose a top-loading washing machine that you can apply when buying it. Make sure to buy a product in a trusted place with guaranteed quality. Besides, make sure to check the warranty service provided by each brand so that any problems you encounter can be resolved properly.