There are so many front loader washing machines to choose from, in Australia. Which one is the best?
We have done hours of research to save you time, and come up with this list:
Best Overall Front Loader Washing Machine: Bosch 8kg Front Load Washer
Best Cheap Front Loader Washing Machine: Haier 7.5kg Front Load Washer
Best Family Washing Machine: LG 12 Kg Front Load Washer
Best Overall Front Loader Washing Machine
We select this as the Best Front Load Washing Machine in Australia because:
It is the most water and energy-efficient washing machine, with 5-star water rating and 5-star energy rating. With the EcoPerfect wash program, you can save energy consumption by up to 50%. Or if you want to get the wash done quickly, you can choose SpeedPerfect and save time by up to 65%.
It is also a quiet washing machine, with its EcoSilence Drive motor and AntiVibration side panels
With the Drum Clean program, the machine will clean by itself, removing bacteria, odour, and detergent residue from the drum.
It automatically sets the water level matching exactly to the load size
No more waste of detergent and reduce residue. This machine has the i-DOS auto dosing system. It knows how much and how dirty the load is and dispenses an exact amount of the detergent needed.
14 number of washing programs: Cotton, Easy Care, Mix, Delicates, Wool, Rinse/Spin, Drain, Drum Clean with reminder, SuperQuick 15'/30′, Duvet, Sportswear, Shirts, Nightwash
Best Cheap Front Loader Washing Machine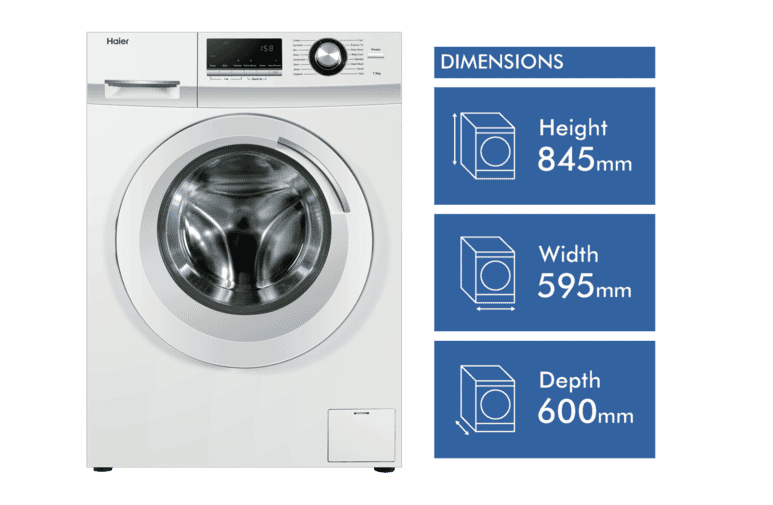 This is the best cheap front loader washing machine because:
It has a 7.5 kg washing capacity. Bigger capacity than other front load washers with the same price
This washing machine is an Award Winner 2020 for Front Loading Washing Machine by ProductReview.com.au for its high customer rating. At the current time of writing, it has an outstanding customer rating of 4.7 out of 5.0
It is water and energy-efficient washing machine. It is rated 4.5 stars for water consumption, and 4 stars for electricity consumption.
There are 16 of washing program options: Cotton, Synthetic, Mix, Wool, Underwear, Sport, Jeans, Hygienic, Fast, Express 15, Daily Wash, Baby Care, Delicate, Hand Wash, Duvet, Spin
With a maximum spin speed of 1200 rpm, your clothes can dry quicker.
Delayed start option
And best of all, you can get this brand new front load washing machine for less than $600.
Best Family Washing Machine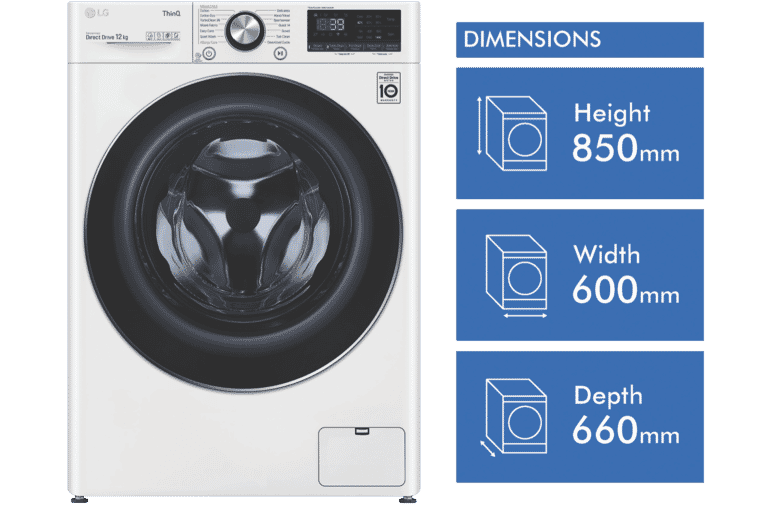 We choose this machine as the Best Family Washing Machine because:
It has a huge washing capacity of 12 kg
With a 5-star energy rating and 4.5-star water rating you can save on bills and spend it for other things
Busy parents can start the wash cycle and monitor the wash progress from anywhere, using a compatible smartphone and LG ThinQ app, or using Google Assistant.
With the Steam feature and Allergy Care cycle, it can remove allergens up to 99.9%
You can ask your older kids to start the washing. With the AI Direct Drive technology, the machine can automatically select the optimal wash motions based on the load weight and fabric softness.
The machine can wash a half load of lightly soiled clothes in only 39 minutes, with its 4 water jets operating during the wash and rinse (TurboClean 360 degree technology).
It is a reliable, quiet, and durable machine with the Inverter Direct Drive Motor. So you can wash the clothes without waking up the kids.
With the Add Item feature, you can add other items even after you start the wash (under certain conditions).
Pre Wash function to remove the stubborn stain.
Wrinkle Care to make ironing easier
Delay start function for up to 19 hours.
Duvet and Sportswear washing program, as well as Cotton, Cotton Eco, Mixed Fabric, Easy Care, Quiet Wash, Delicates, and Hand/Wool
The maximum spin speed of 1400 RPM, makes the clothes dry faster.
With Safety Lock
How To Choose A Front Loader Washing Machine
Understanding how to choose a front loader washing machine is not something difficult. Anyone can choose a front loader washing machine easily through a variety of ways or the best tips that can be found.
The presence of a front loader washing machine is more widely used for laundry businesses because it usually has a larger capacity. Then how to choose the best front loader washing machine? You can try to apply the following tips.
1. Pay Attention To Capacity
You must pay attention to the capacity of the front loader washing machine if you want to buy a unit. Each household will produce different amounts of dirty clothes or fabrics per day. If you have free time every day, you can wash it every day.
However, if you only have time to wash once a week, then you need a washing machine with a larger capacity. For that, you must first pay attention to how much laundry you usually stack in a certain time so that you can determine the capacity of the washing machine you need.
If you are used to washing a lot, then you should choose a front loader washing machine with a larger capacity. In addition to laundry capacity, you must also check the water and electricity capacity. The front-loading washing machine is claimed to be more water-efficient because the average water needed is only 90 litres. Also, you can save electricity with shorter washing times.
2. Check Security Features
Various household needs make you have to choose a washing machine that has higher security considering that there are many people in the house, including children. You should choose a washing machine with a higher cover because the low cover on a front loading washing machine is very easily accessible to small children which means it is more dangerous.
Therefore, some front-loading washing machine manufacturers provide safety features for children or child locks so that they are safe for children. You can choose extra security features for the safety of children.
Choose a washing machine with an opening that cannot be opened from the outside. The new door can open after the washing process is complete. This feature is now a mainstay for housewives who want to wash with optimal results, without the need to fear security at home.
3. Choose a Quiet Washing Machine
You know the sound of a washing machine can be deafening because it's noisy. For that, choose a washing machine that has a little vibration so it doesn't make any noise. Currently, many front loading washing machines are equipped with inverter technology so that they can minimize vibrations and make the machine make no noise while washing. You can check the dB wave generated when buying a washing machine.
4. Choose based on your budget
Whatever type of front loader washing machine you want, you must choose a machine that has a price according to your capabilities. Make sure you buy a front loader washing machine that matches your pocket capacity. Even though it is priced at an affordable price, you can choose a quality washing machine because now there is a quality washing machine at a friendly price.
To get a quality washing machine, you can pay attention to how to choose a top loader washing machine. Through the right choice, you will find the best product according to your needs.
Also check: Best Top Load Washing Machine